Movie Review: Anvil: The Story of Anvil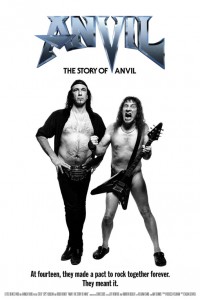 Those who know me know that I grew up on 80's metal. Mostly because that's how I learned how to play the guitar…and partially because it was the coolest thing going (sorry, INXS / Depeche Mode / Whatever Other Pouty Band You Can Name Next). I thought I had heard of every 80's metal band, but I had not heard of Anvil. Now that I've watched Anvil: The Story of Anvil, I understand why.
Anvil, founded in Canada in 1973 by Steve (Lips) Kudlow and Robb Reiner (no, not that* Rob Reiner), shot to fame in 1982 with their first, and most influential metal record, Metal On Metal. Cited by Metallica, Megadeth, Guns 'n Roses and many other 80's era metal gods as one of the original groups to forge the "Heavy Metal" template, Anvil rapidly faded into obscurity, thanks to the now-typical laundry list of music industry landmines: shitty management, horrid tour booking and awful follow-up record production. Take those three ingredients and repeat them for the next 20 years and you have Anvil.
The story doesn't dwell on their fireball start in the industry but quickly humanizes every member by documenting their present-day worlds. Unfortunately for them, they are unable to make ends meet purely by their music, and we're taken along for an intimate, sobering and sometimes lighthearted tour of their shitty jobs and broken dreams. Miraculously, the core of the band (Kudlow and Reiner) remained best friends and refused to stop rocking.
Luckily, after a terrible European "tour" that was booked by a rabid, incoherent female Czech fan, inspiration strikes Kudlow on the lips. He decides to send a demo CD of their latest tunes to the original producer of Metal On Metal. To their surprise, the producer gives it a go (with the appropriate amount of funding from the band, of course) and pulls the band together to complete their 13th studio record, aptly titled "This Is Thirteen."
Anvil then tries to go the old-school route by sending out CDs to record labels for distribution deals. It takes a few rejections before they turn to the power of the Internet and social media to get the word out. Luckily things take off and they triumphantly return to Tokyo, Japan to play a festival, and they kill. And that, my friends, is just the beginning of Anvil's new lease on life.
With a strangely compelling and charismatic band and blindly supportive yet weary and sympathetic family members, it's hard to imagine how Director Sacha Gervasi couldn't make you hope for Anvil to pull it out of the fire. With great editing, great pacing, and just enough drama without seeming like it's from a reality tv show, it's no wonder this film won so many awards.
Anvil: The Story of Anvil, is one hell of a story. Forget that it deals with an 80's metal band. Or they're from Canada (not that there's anything wrong with that ;-)). Any sympathetic human being would find this film to be moving, uplifting and inspiring. Said person might even venture to iTunes and buy their music after hearing their latest stuff. Go see it and turn it up!
Final verdict: 4 out of 5 beers. I dare to say this is the all-around best rock music film ever made. Better than It Might Get Loud, better than Spinal Tap, and better than the U2: Rattle & Hum. I would have given it 5 out of 5 if it had an amazing live guitar solo moment, but it didn't.